She gives me partridges - Alma Mahler Werfel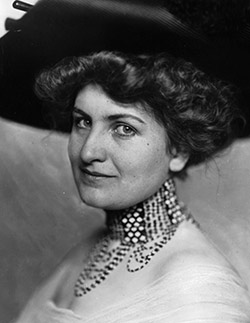 Alma Mahler Werfel

celebrated her 70th birthday at home in Beverly Hills on the last day of August 1949. A brass band played as guests chose from a Mitteleuropean selection of drinks: champagne, black coffee or Alma's favourite, Bénédictine (by the end of her life, she was drinking a bottle a day). In the dining room, an abundant buffet was laid out. Luminaries from the 'German California' scene came to pay homage to the widow of the composer Gustav Mahler and the writer Franz Werfel, Walter Gropius's divorced wife and Oscar Kokoshka's former lover. Thomas Mann, who was one of the guests, offered 'cordial felicitations on your special day'.
Some of Mann's friends were astonished that he could maintain his friendship with Alma when he had been such a prominent opponent of Nazism. After all, she was an unrepentant anti-Semite who spoke openly and often of her preference for Aryans and her disappointment with Jews, even though she had married two of them, Mahler and Werfel. At a social event in California in 1942, when Werfel was still alive, she had been heard remarking that the Nazis had done 'a great many praiseworthy things' and that the concentration camps were 'fabrications put out by the refugees'. She was also a terrible drunk, not to mention an extremely domineering and difficult person. The year before her 70th birthday, she dragged Mann into a row with Arnold Schönberg, whom she had known ever since her youth in Vienna. In Mann's novel Dr Faustus, Adrian Leverkühn's music is clearly based on Schönberg's 12-tone compositions. Alma read the book and immediately told Schönberg she was very upset at the way Mann had appropriated his music. She then rang Mann and told him that Schönberg was angry about the misuse of his 'intellectual property' – thanks to Alma, he now was. She went back and forth between the two men, stoking the animus while presenting herself as a mediator. When Mann eventually found out Alma's true role in the affair, he was furious at her 'meddling'.
Yet here was Mann, just months later, raising a glass to celebrate her life. During the birthday party, she took Mann to one side and assured him that there was now a 'total breach' between her and Schönberg and she was loyal only to him, though in fact she made up with Schönberg a couple of weeks later and accepted a 'birthday canon' he had composed in her honour. In a book of birthday tributes – Benjamin Britten, Stravinsky and Mann's brother Heinrich were also contributors – Mann called himself 'an admirer, if you will, who found refreshment in every get-together with you' and spoke of 'the joyful stimulation that exudes from your personality, a humane nature in female form, a great woman'. In his diary, he was less fulsome but still strikingly positive after dinner parties at Alma's house. 'Alma quite amusing and truthful over the discomfort of life,' he wrote; on another occasion: 'Cold Duck. Alma amusing.' Challenged about his failure to break off relations with her, he smiled and said: 'She gives me partridges to eat, and I like them.'
Alma's ambitious empire over men extended far beyond those she slept with. She saw it as her mission to draw talented men from many worlds into her orbit and to render them 'brighter'. She'd grown up in a household, presided over by her father, the artist Emil Schindler, where there were regular gatherings of writers, artists and musicians: evenings of tarot cards, black coffee, dancing and schnapps. At every phase of her life, she tried to re-create the conditions of a lavish Viennese salon, greeting her guests with rich food, Bénédictine and a radiant smile, always up for receiving homage. She fled to America with Werfel in 1941, carrying precious musical scores by Mahler and Bruckner in her hand luggage along with her cash and her jewellery. No sooner had she arrived than she found herself 'in heaven', immediately setting up a makeshift salon in her hotel suite, where, as Oliver Hilmes describes, 'she received political figures, members of the high aristocracy from the toppled Austro-Hungarian Empire, as well as artists like the Russian painter Marc Chagall.'
In the song 'Alma' – written soon after her obituaries appeared in December 1964 – Tom Lehrer imagines all modern women being jealous of her 'for bagging Gustav and Walter and Franz'. How did she do it? At first, at least, she had great beauty. As a young woman, Alma Schindler, Emil's oldest daughter, was said to be 'the loveliest girl in Vienna', with lustrous dark hair and a self-confident gaze. She had her first kiss aged 17 with Gustav Klimt, while travelling in Genoa. Klimt found her beautiful but also something more: 'She has everything a discerning man could possibly ask for from a woman, in ample measure; I believe wherever she goes and casts an eye into the masculine world, she is the sovereign lady, the ruler.' These sovereign qualities lasted long after her looks had faded. When Elias Canetti met her in 1933, he observed an 'inebriated individual, who looked much older than she was', large and overflowing, 'with a cloying smile and bright, wide-open, glassy eyes'. Yet still she drew men to her, like mosquitoes around a lamp, as she once put it. In 1933, she was juggling her marriage to Werfel and a new love affair with a Catholic priest called Johannes Hollnsteiner: 'Until now,' she wrote in her diary, 'he has never encountered womankind.' Meanwhile, Werfel remained tied to her, almost against his will. He hated her infidelity and her anti-Semitic outbursts – 'we're tearing one another to shreds,' he lamented in one letter – but somehow always came back for more.