An Imperfect Life: On George and W.B. Yeats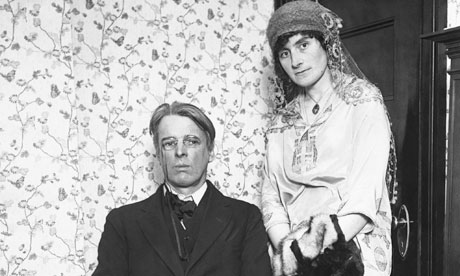 William Butler Yeats and his wife Georgie in the late 1920s. Photograph: Bettmann/CORBIS
The time is 1917; the place, London. The war is on. You are a young woman, attractive, well-off, fluent in French, German and Italian. Since no adequate translation of Pico della Mirandola exists, you translate the Renaissance Neo-Platonist's Latin yourself. But while your interest in esoteric philosophy leads you to become a member of the Hermetic Order of the Golden Dawn, your eyes are wide open. You volunteer for the Red Cross. You are immersed in London's literary avant-garde. After all, your best friend is married to the American poet Ezra Pound. Your friend's mother was once the lover of W.B. Yeats, whom Pound considers the greatest living poet—hardly an idiosyncratic opinion.
You have had no love affairs of consequence. When Yeats, a 51-year-old bachelor, once again proposes to Maud Gonne (the Irish actress and political activist with whom he'd fallen in love as a young man), she declines. When Yeats then proposes to Maud's daughter, Iseult, she also declines; Iseult would later have an affair with Pound. A month later, when Yeats proposes to you, you accept. At 11:20 in the morning on October 20, 1917, you are married in the Harrow Road Registry Office; the witnesses are Pound and your mother.
"I think [this] girl both friendly, serviceable & very able," writes Yeats to an old friend. "She is under the glamour of a great man 30 years older than herself & with a talent for love-making," reports your mother. Honeymooning in the Ashdown Forest Hotel in Sussex, you cast a horary (an astrological chart designed to answer a particular question at a particular place and time). "Per dimandera [domandare] perche noi siamo infelice," you write in a language you know your husband does not understand—"to ask why we are unhappy." The discombobulated Yeats is writing letters to Iseult; he is writing poems: "O but her heart would break to learn my thoughts are far away." A decade later, now the mother of two young children, the wife of a Nobel Prize–winning poet, you write "burn this when read" at the top of a letter to a close friend: "had I known that all this might happen I should certainly never have had a family!"
This is one way of describing the life of Bertha Georgie Hyde Lees Yeats, the fascinating woman who devoted her entire adult life to the needs and, after his death, reputation of an indisputably great poet, a poet with whose poems (qua poems) we are only beginning to come to terms, despite the poet's prominent place in the canon. "The intellect of man is forced to choose/Perfection of the life, or of the work," wrote Yeats in "The Choice," and it would seem that, for him, the choice was clear. He could be an arch, distant father ("Who is it you are looking for?" he once asked his daughter when meeting her at the family gate), a husband expert at affecting incompetence at simple everyday tasks so that his purchase on greatness might be presumed. Once, when worried about his eyesight, George sent him a new lamp. "What oil do I put in it?" he asked. "The lamp of course consumes lamp oil," she wrote back. "You could surely not have imagined that it demanded Sanctuary oil, or olive oil?" Easily, as George knew well, her husband could have imagined that it demanded Sanctuary oil. When asked how it felt to "live with a genius," George replied, "Oh alright, I never notice." Her devotion did not wobble, but she was no one's fool.
There is something wrong, something too ingeniously self-forgiving, about Yeats's distinction between perfection of the life and perfection of the work. Yeats was a formidable guy; he lived in a medieval tower, he talked with dead people, he wrote some of the most beautiful lyric poems in the language. But nobody has a perfect life. Every life is enriched by disappointment, driven by compromise, and to suggest that one might have been a good person if only one had not been a great artist is to diminish the integrity of art. It is to suggest that art is not fueled by human experience—from the aesthetic to the political to the apocalyptic—but somehow transpires beside or beyond it. Ann Saddlemyer's recently published edition of the lifelong correspondence between Willy and George allows us to witness the complexities of life and art entwined.
Saddlemyer is a meticulous scholar of a kind now increasingly rare. She has published crucial editions of the plays of Yeats's close friends J.M. Synge and Augusta Gregory; she has also edited Synge's letters. Unlike most meticulous editors, however, Saddlemyer is also an elegant writer with a keen sense of proportion. Her biography of George Yeats, Becoming George: The Life of Mrs. W.B. Yeats, published in 2002, is uncommonly readable, marked by an acuity of emotional and literary insight lacking in the otherwise distinguished standard biography of Yeats himself (by the historian Roy Foster). It's safe to say that Saddlemyer's biography, to which the Yeats family letters are crucial, is more fun to read than the letters themselves.
This is in some ways inevitable. Willy and George were often separated by professional duties, but the distance and the duration were usually short. Their letters consequently tend to skip the leisurely evocations of daily life one associates with a rich correspondence, jumping quickly to the pressing matters of the moment—the sickness of a child (Anne and Michael Yeats were often seriously ill), the restoration of Ballylee (the tower the Yeats family sometimes called home), a question about the Abbey Theatre (of which Yeats was a director), the fate of the Cuala Press (which was haphazardly run by Yeats's sisters, the aptly named Lily and Lolly, who lived together but despised each other).