Richard Redgrave: The Governess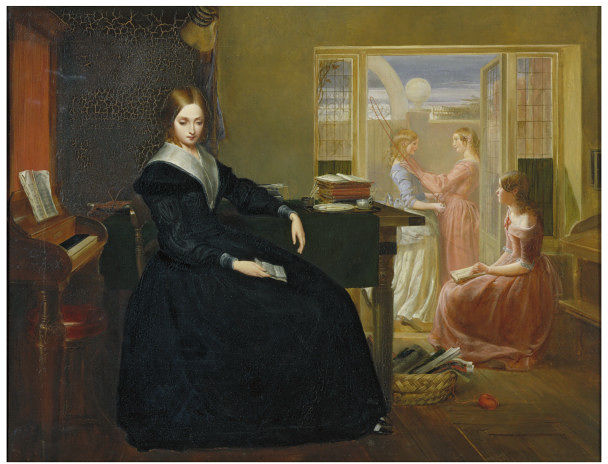 This picture was exhibited with the quotation: 'She sees no kind domestic visage here'. The position of governess was one of the few professions open to middle-class women of modest means, but it was often a lonely and difficult life because the social status of a governess was ambiguous. She was not a servant in the usual sense but nor was she on equal terms with the family who employed her. Here, the young woman holds a letter which has obviously stirred memories of home. It may be news of a death in her family - letters or cards with black borders were used to announce deaths. Redgrave had a personal interest in representing the life of a governess: his sister Jane was a governess and died young.
Richard Redgrave
, born Pimlico, London, 30 April 1804, the son of an engineer and manufacturer, in whose office he first worked as draughtsman and designer. Entered RA Schools 1826. Worked as a drawing master in the 1830s. Exhibited 141 works at the RA between 1825 and 1883, 17 at the BI 1832-59, and 20 (including four watercolours) at the SBA 1829-35 and 1870-9. Early works were landscapes and costume pieces, mainly l8thcentury and in the manner of C R Leslie; from the 1840s he specialised in modem genre and social comment, before returning to landscape, particularly around his home in Abinger, Surrey, relieving the pressure of his administrative duties. Elected ARA 1840, RA 1851; Secretary of the Etching Club 1837-42. In 1847 he began his official career in art education as Master at the Government School of Design, becoming Head Master in 1848, Art Superintendent 1852, Inspector General 1857, and Director 1874. He was Inspector of the Queen's Pictures, compiling a catalogue of the Royal Collection, 1857-79. As he wrote in 1856: 'I regret to find that I am so identified with office work that it is almost forgotten that I am a painter'. (F M Redgrave Richard Redgrave: A Memoir. . . p l 71 ). He published An Elementary Manual of Colour ... (1853), The Sheepshanks Gallery (1870), and, most famously, with his brother Samuel, A Century of Painters of the English School ... (2 vols, 1866). He was offered a Knighthood in 1869, which he declined; created Companion of the Bath 1880. Died Kensington, London, 14 December 1888. His daughters Frances (who compiled the Memoir of her father) and Evelyn were also exhibiting artists.